Lucky 13 Riddler With Visual Solutions
Go to file on the menu and then print out
I am a pie and a patch.
Pumpkin ? C.

I ride brooms wearing wide brim hats!
Witch ? E.

I purr, meow, hiss and scratch.
Cat ? J.

I have hooves and horns,
pitchfork and match.
Devil? L.

I have wings and fangs am gray or black
and am often stewed in Witches vats.
Bat? B.

Boo Hoo I taunt you in white sheets
in haunted houses
and gravesides we often meet.
Ghost ? K.

I have many heads all made of stone
and holes as deep as a caskets home.
Cemetery ?
I.

I sleep all day in a coffin tight
but with biting fangs drink blood all night!
Vampire ?
A.

I am an 8 foot monster
yet, a re-enlivened man
sewn dead parts, feet, face and hands.
Frankenstein ?
G.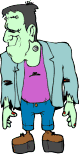 I howl at the moon with teeth and claws
Once a man now, cursed with fur and paws.
Werewolf ? D.

I once was human, flesh and skin
but, now am just the bones
of what I once had been.
Skeleton ? H.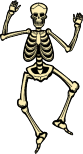 I am candy, fruit, sweet and snack
given to the bell ringers so, they won't be back.
Trick or Treats ?
F.

I come one scary night a year
October 31, is the date to fear.
Halloween ?
M.

Now, the riddling finished.
It has been all done.
Happy Solstice EVE
To Everyone!

The End