You may answer the riddles by filling in the right word.
1. "Ho, Ho, Ho! Fat and dressed in red
on Christmas Eve I never get to bed.
K.

Santa?
2. We can fly and Rudolph's one
we take to the sky when Christmas comes!
G.

Reindeer?
3. I am something you write and send.
Santa reads everyone of them.
E.

Letter?
4. I am tied with ribbons
and wrapped up prettily.
I am gotten and am given,
me to you or you to me.
D.

Gifts or Presents ?
5. I am Santa's little helper and
I work at the North Pole,
to fill his sleigh by Christmas Eve's
my most important goal!
C.

Elf ?
6. I rose high into the sky
on the first Christmas night.
I stood over the manger guiding all
with my bright and wondrous light.
A.
Star, Christmas Star, Bethlehem Star?
7. Reindeer pull me through the sky
Santa rides in me with gifts piled high.
J.

Sled ?
8. I am green and filled with colored lights.
My boughs and branches gleaming bright .
F.

Tree or Christmas Tree?

9. These 3 came to a stable in Bethlehem
when a baby was born
who too, would be one like them.
L.

King, Kings or Wisemen ?

10. I am hung by the chimney with care
once filled with feet but, now with Christmas fare.
H.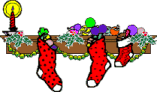 Stockings ?
11. I am an instrument that is never strummed
music is beaten on me
pa-rump-pum-pum-pum.
B.

Drum ?
12. Gabriel and Michael were one like me
and we sang Alleluia in great harmony.
I.

Angel ?

Now, the riddling finished.
It has all been done.
A very Merry Christmas Day
To Every One!

The End