Hi, I am Bolten of the
Buildin'- Sunnie BunnieZZ.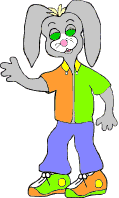 I love to watch the stars
and I love to try and figure out the

weather.
I really wish I could go to the moon
and look around.
See if it rains there and stuff.

My Dad, Brick and my Mom, Berrie
are very, hard working bunnies.
But they always find time to listen to me.
Grampaw listens too!
He has lots of ideas like me, we talk a lot.
He loves gardening and his puppets.
And like me,
he likes to figure out what's going on
with the weather.

He wonders a lot too!
Should he plant this thing or that.
With me, it will it be a good day to play catch
or stay in and color.
And Grammaw, well she always has lots of questions
about her flowers.

I love living on the hill,
but more than anything I do on the hill,
my favorite listening thing to do,
is to listen to Grammaw and Grampaw's stories.
Gotta go now, the suns coming out!
Bye