About

Us
---
This is an old, old picture. That's why we use it!!!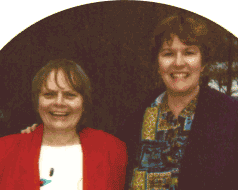 Copp Carbonell Publishing
is owned and operated by
Linda A. Copp and Carol A. Carbonell
in joint partnership.
---
We publish digital books and Internet publications.
We taught Courses in
Computer Use, Hardware, Software, Upgrading Computers and Software, Word processing, other computer Applications and Web Technology.
---
Linda is the author and illustrator of the SunnieBunnieZZ poetry and stories in 'Tales from the Land of As Is'
(the most prominent of her many sites). Before taking these responsibilities on fulltime, Linda retired from her work with developmentally disabled individuals as manager of a group home for The Mental Health Association.
Linda, like her BunnieZZ, has many interests; puppetry, poetry, astronomy, photography, Rosie O'Donnell, Native American Indian legends and folklore, aquariums, numerology, Reiki, theology, literature, and quotes which amplify the human condition. She is a prolific writer of poetry and prose.
She has a background working in the silicon wafer manufacturing field as well as the supervision of all aspects of their testing and certification in independent test house facilities.
---
Carol is the technician who keeps both CoppCarbonell Publishing and the SunnieBunnieZZ enterprises, sights and sounds in working order.
Carol, a retired Technology Teacher holding certification by the state of Massachusetts as an Instructional Technology Specialist, all grade levels as well as other certifications, earned a Master of Education from Cambridge College, a Master of Business Administration from the University of Massachusetts, Lowell, and a Bachelor of Science in Education from the University of Massachusetts, Boston.
Carol taught courses in Computer Technology at all grade and age levels. Her specialty is reducing stress in the learning process, (very helpful to technophobes). She enjoys reading, working with technology and chess. She sold her '67 Mustang.
---
The photos on the wall show
my daughter, Ellen,
and my son, Paul.
Personal Note From Carol:
For those of you who have visited this page before and are wondering about my dog, Floyd. He passed away on January 17, 2002. It was a very sad day. Paul Simon's chorus in his song, Mother And Child Reunion", were about the death of his dog. It resonates.
"No I would not give you false hope
On this strange and mournful day
But the mother and child reunion
Is only a motion away, oh, little darling of mine.

I can't for the life of me
Remember a sadder day
I know they say let it be
But it just don't work out that way
And the course of a lifetime runs
Over and over again"

from http://www.snopes.com/music/songs/mother.htm
---

Copp Carbonell Publishing

Publications

Technical Page
Using The Internet As A

Research and Learning Tool
---
SunnieBunnieZZ

Kidsafe Kidsite
Kidsafe

Links