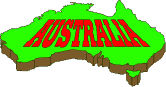 Australia is a continent
and it's a country, too!
It lies in the Southern Hemisphere
in oceans deep and blue.
The equator rests above it,
which is how it got its name.
Australis stands for "southern"
and "Down Under" means the same.
The Indian Ocean is on its left.
The Pacific's on its right.
And the stars strewn across its southern skies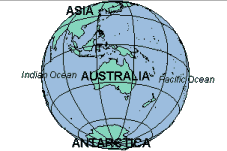 are big and bold and bright.
Indonesia, New Guinea
and the Philippines
rise above it on the globe.
Antarctica's spread beneath it,
in her winter coat of cold!
Australia's highest point is
Mt. Kosciusko.
It's one of only two places
Australians will see snow.
The other is Tasmania,
both an island and a state
but to get there you must
navigate the waves
of the Bass Strait.

Lake Eyre is the lowest point in
South Australia's deepy depths.
The "Outback" in its interior
is grazing land and yet,
most people live in the cities
that lie along her shores.
Leaving the Outback far less peopled
and belonging Out of Doors.
Australians make their money
with wheat, wool, metals, ore and honey.
Then there's sugarcane,
cereal, fruits and barley,
cattle, cotton, poultry, pigs
and yet, hardly
does that cover all they buy and sell
for tourists are their trade as well.


The Great Barrier Reef
off Queensland's coast
is a favorite tourist spot,
with over 1200 miles of coral reefs
and all the fish it's got.
Coral colors everywhere,
over 300 species are growing there,
in this natural aquarium,
they all share
there in King Neptune's,
under water lair!


Olga National Park and Ayer's Rock
in the Northern Territory,
is the largest monolith it's said
where in its caves
the Aborigines

told their stories.
Deserts, grasslands and rock ranges,
Australia's a landscape of many changes.
With beaches, rain forests, islands and dunes,
its climate keeps you guessing all afternoon.
Covering three quarters of the country
grow Acacia and Eucalyptus Trees.
So, it's no surprise, most certainly,
that the golden wattle acacia has come to be
its national flower,
it's tops in their botany.
Australia's made up of six states,
let me name them for ya' mates!
South Australia, New South Wales, Tasmania,
Western Australia, Queensland and Victoria!
But wait! There's more to Australia
than these six states
there's nine territories as well,
I'll enumerate!
Attached to the mainland
she has two of these,
The Australian Capital
and The Northern Territories.

However, that still leaves seven more,
lying off her coasts and shores.
There's Christmas and Norfolk Island and
The Heard McDonald and The Coco Islands.
Count the Ashmore and Cartier Islands as one
and that's seven of the nine
and we're nearly done.
Now, Add "The Australian Antarctic Territory"
and the Island Territory of the Coral Seas!
And that's count 'em, eight and NINE,
respectively!

Boomerangs and Cockatoo,
Australia's got a lot to do
camel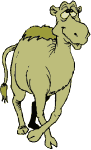 riding,
horse

racing too
rugby, soccer and Outback barbeques.
Waltzing Matilda's, a well known
Australian song
but it is not Australia's anthem,
if you thought that, you're wrong!
Her national anthem's called,
"Advance Australia Fair."
You hear it played at all
major events held there!
Australia's culture is very, rich,
she's got a lot to share.
You find it all about you
why, it's here and then it's there.
For Melbourne, in Victoria,



is home to her ballet.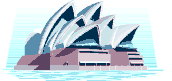 And Sydney's Great Opera House
plays music night and day.
Well, Hobart's Theatre Royal
entertains in many ways,
as does Adelaide's Festival of Arts
with music, dance and plays!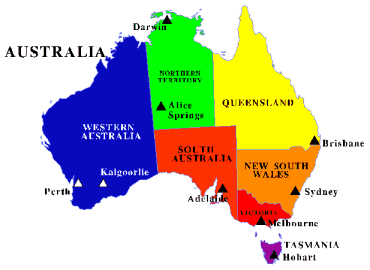 Canberra is this nation's capital
but each state has there own as well!
There's Perth in Western Australia.
Hobart in Tasmania.
Adelaide in South Australia.
Melbourne in Victoria.
Sydney in New South Whales
And Brisbane in Queensland
could tell you tales!
Wallabie and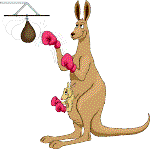 Kangaroo
Australia's just a natural zoo.
Wombat,

whale, ant eater too,
parrot and possum
hanging out with you!
Koala bear climb

Eucalyptus Trees
chewing on their fragrant leaves.
Penguin,

gecko, tuna
and

turtle
populate a land that's dry yet fertile!

As the Kookaburra

bird
sits and laughs at me.
And the lyrebird sing songs,
some in mimicry!
Hissing

snakes and spiders too
some of them want a bite of you!
Emus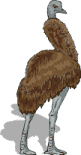 are birds but they don't fly,
nor do the cassowary who pass you by,
Unlike the Black Swan
swimming quite nearby.
or the wandering

albatross,
who fill the sky!
But, lookout for shark and stinging fish
like stingray and lots of jelly fish!
Yet, worse than these has to be
The blue ringed octopus, whose sting's deadly!
Platypus

and dolphin
play out in the bay,
Olympic swimming throughout the day.
Salt water crocodiles

crawl away
along the shore
and down the waterway.
They're looking for snacks
as they slap and snap
beware of them for they sometimes nap.
But, more dangerous than these all just may be
The dingos who eat ferociously
they eat so much carnivorously
Some critters almost ceased to be.
Tasmanian

devils,

wolves
and mutton birds
running, howling, flying, heard
inhabit Australia's smallest state.
Yes, Tasmania's unique make no mistake!
From her Boomerang to her Kangaroo,
From her Koala Bear
to her ground, bound Emu,
Australia's home to so, much wonder,
that it's hard to leave this land, down under!
Still, goodbye for now and for today
though remember like the boomerang
you toss away,
we too, will return here,
and to you again
Someday!

January 8, 2002
By Linda A. Copp