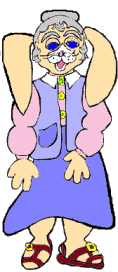 Hello, I am Grammaw Hunnie
of the tale telling Sunnie BunnieZZ©.
I, beloved wife of Sunnie, mother of Dash, Berrie and Chasen,
mother-in-law to Brick and Summer
and grandmother to Jolten, Bolten, Race and Brynn,
am the Island Historian, and Island Poetess.

My pre-Sunnie days were carefree,
but filled with bunnie folk lore, myths and mysteries.
In those days, no one wrote anything down,
everything was spoken
and all critters understood each other,
sometimes even without saying a word.
A bit like my granddaughter, Brynn.
Got a bit of the fairies' ways in her.
Summer finds it hard to believe,
but I did know fairies in my childhood days.
Sunnie and I have had and do have a good life together.
I sometimes miss things about my early years,
Bunnie Burrows© and my folks,
the Hunnie BunnieZZ.
I was an only child and when my folks died it was hard.
Thank Hunnie Bunnie Goodness
I had my Sunnie and my work here on the Hill.
I got a lot of joy from my writing.
It all helped me through the hard times.

Did I mention, I sew tapestries?
I try to get threads of every color and kind
into the design.
Brynn, my granddaughter is a great help to me too,
with her drawings of things.
I find my tapestries now,
can be more easily read than the old days.
Well, I do ramble a bit sometimes,
I hope to see you soon and often,
I have so much to tell you.
And sharing is one of my favorite things to do.

I like to relax beneath the Great Mann Elder and sew
or better yet spin a tale or two
from my youth for my kids and for you.
Ahh! Guess I better go, the flowers need weeding!