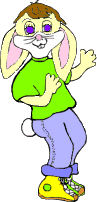 Hi, I'm Jolten Buildin' Sunnie-Bunnie.
I love the water.
My favorite thing to do is to journey down the hill
to Lily Lake or Sunset Bay.
I love to go swimming, fishing and water rafting.
I even like just walking along the shoreline
looking for fish and seashells.

Sunrise Island is the best place to find
rare and beautiful sea life.
It has so many ponds and pools
as well as, the Bays and Lakes.
There's just so, much to see and do here!
I love it.

I also like living on the hill.
It's such a pretty place surrounded by woods
and critters there is always alot to do.
Easter is the Sunnie BunnieZZ busiest time
and during the preparations for Easter season,
we can't leave the hill.
But, when things settle down in late April and May,
My Dad, Brick or my Grampaw
often take me to these special places to fish
and think and just be at one with the Island and one another.