Christmas falls on December 25 and is the celebration of the birthday of Jesus Christ.


The word Christmas means Christ's Mass. The gospels of Matthew and Luke tell of the birth of Jesus, said to be the Son of God and in the Christian Church the Messiah or Savior of the World. The exact date of His birth is not known but the Christian Community has chosen the twenty fifth because they feel it is the closest they can come to the actual date.
The gospel of Luke tells how

shepherds watching their sheep by night were told by an angel that the Savior was born in Bethlehem.
They went to Bethlehem to see the

baby, born to Mary and Joseph,

who was wrapped in swaddling clothes and laid in a manger because there was no room in the inn.
The gospel of Matthew told of three Wisemen,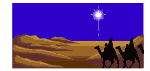 the Magi,
who followed the star of Bethlehem and brought gold, frankincense and myrrh as gifts for the child.

Christmas Day is observed with
religious

services throughout the day. A midnight Mass is conducted in Rome, at the Vatican and midnight masses are observed in most Christian communities,
ushering in the day of the Lord's birth.

Christmas is a time of Peace on Earth,
good will toward men.

Families gather and exchange gifts

, dine together, sing

Christmas Carols,
attend religious services together
and share their love and joy.
Greetings and gifts are also exchanged between friends through the sending of Christmas cards
and gift giving.

Decorating homes, streets, buildings and Christmas

Trees is part of the Christmas Tradition. It is one of the most joyous times on earth.

---
The midi playing on this page "The Sugar Plum Fairy" by Doug Ganetz,
its brilliant sequencer, truly, the best arrangement I have ever heard!
---
For Christmas Activities Click on
Activities and Puzzles for Children
Christmas Poems