Heaven Here Or There
Then And Now
By Linda A. Copp
I used to picture God
adrift in space and sky,
Sitting on a silver throne
on the clouds that passed me by.
He was robed in gold,
a scepter in His hands.
And scattered round His side,
were angels, bands and bands.
A singing Alleluia,
addressing Him with love,
Yielding adoration,
like His swiftly winging doves,
That flew just o'er His head
above His shoulders touch,
Cooing very gently
We love you Christ so, much.
His scepter jeweled and brilliant
with precious stones and light,
His robes a spending color
of spun golden shafts of light.
Yes, I used to picture God,
in just this special way,
With majesty and wondrous robes,
and angels at their play.
But, now, I see Him differently.
He's seated on a hill.
It's sloping very gently.
It's green; it's lush; it's still.
The sky is at His back,
there are no angels, no. No bands.
His garments pink and faded
a wooden staff in hand.
He's humble and He's loving,
He's gentle and He's mild.
A flock of sheep have gathered,
around the Holy Child.
They lie about contentedly,
falling, by His sides
And he's at peace and smiling
in His green, his countryside.
No, no, no throne of silver,
no robe of gold, no dove.
No bejeweled scepter,
Just His earth, Himself, and love.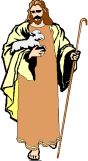 And as I watch Him sitting there
with wooden staff and simple dress.
I can't help but feel a deeper love,
a sweeter happiness.
The blue robe falls so, softly,
about his girdle pink,
His sandaled feet are resting.
He's falling fast asleep.
The sheep are nodding slightly
He's sleeping so they think,
But, they don't know he wanted them
to just so, wrongly think.
And now the flocks at slumber,
and the Shepherd beams a smile.
He's been waiting for His angels,
for they've been gone a while.
Dispatched to different places
all over Earth and Sky,
guarding, guiding hurting souls
who laugh and sometimes cry.
And God's been listening quietly,
and waiting all this time.
Listening To His children's needs,
their daily pleads yes, both yours and mine.
My God is so much closer now,
sitting in the hills.
And I can often hear Him,
when all the earth seems still.
A God that one can talk to
through stammered words or prayer.
A God that's always listening
to each and every prayer.
A Shepherd able to be all
to each and every breath.
A King, a Father, truly
from now and unto death.
And yes, there is a Heaven,
perhaps it's in the sky,
Perhaps it's in the mountains
Past those rainbows way up high.
Or maybe Heaven's but an angel,
dispensed throughout the land
That flies unto hurting hearts
to enlighten, understand.
Perhaps it's listening quietly,
with Him, the Holy King,
Or taking slumber in His greenery,
with the sheep, the birds that sing.
Yes, maybe Heaven's here on Earth,
or maybe up above,
But, Heavens definitely there,
where, the Shepherd spends His Love.
By Linda A. Copp
©October 10, 1970