"It's Time" Said The Pumpkin
By Linda A. Copp
The clock struck midnight
the dusk answered now.
My chariot turned to pumpkin
its wheels were lost somehow.
Cast into the night air
vanquished in a breath.
The carriage lost in seconds
with but my being left.
And it was time to go back,
back to the cottage wood,
Time to forget the castles
that once before me stood.


For I was never princess,
I was never Queen
Just some wayward stranger
that fell in to this dream.


I saw the magic flying,
the pixy dust about.
The fairies and the majesty
the wonder here without.
And I believed the fantasy,
this make-believe, this good.
But, it was only superficial joy,
I'm safer in my wood.
Where each day holds the sunshine
and sometimes holds the rain,
Where things are simple, cut, dried
free from confusion, pain.
And my thoughts and dreams can live
as ideality or not.
Kept within their confines
like a present that's been bought.
A gift yet, to be given
when reality says now
Like Christmas Day needs Jesus
and a promise needs a Vow.
Yet, I am free to, be me
within again yet, real.
Something like a reindeer
at Christmastime will feel,
Considered part the scenery,
the season time of year
But really ringing deep down
the sleigh bells that they hear.

Yes, I am but the peasant girl
that I was meant to be
And I was wrong to think otherwise
of myself, my life, or me.
Changing is a part of life
that shows us what we are
Revealing this, our inner selves
we are but what we are.
Inevitably, as not
the carriage had to go.
I stumbled into dreamland
and dreamland just 'ain't' so.
Indeed it's not reality,
a reality for me
I was born under another star
lost to another sea.
And so, I'll live my life now,
as God must have meant me to.
I'll leave dreamland to the dreamers,
and heaven to them, too!


I'll give fairy tales to Princes,
to those people that it's meant
Get off this broken pumpkin
and go home,
and home I went.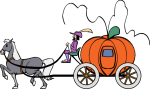 By Linda A. Copp
©November 6, 1970
---