Labor Day is a holiday honoring
working men

and women.
It is observed on the first Monday in September.


The United States, Puerto Rico and Canada all observe the first Monday of September as Labor Day. Australia celebrates the Eight Hour Day commemorating their successful struggle for a shorter work day and Europe celebrates Labor Day on May 1.
The first observance of this holiday

in the United States came in September of 1882
when a


Labor Day Parade
was held by the
Knights of Labor in New York City.
Matthew M. Maguire and Peter J. McGuire contributed greatly to this event and are credited as the founders of this holiday observance, as they were the first to suggest there be a day of observance honoring working people here in the United States. Peter J. McGuire, a New York City carpenter, helped found the United Brotherhood of Carpenters and Joiners.
Two years later, in 1884 the group held a parade on the first Monday of September and a resolution was adopted to hold all future parades on that day and to designate the day, Labor Day.
In 1887, Oregon became the first state to make Labor Day a legal holiday. In 1894, President Grover Cleveland signed a bill making Labor Day a national holiday.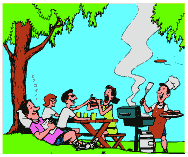 The day is usually observed with cookouts, weekend trips, fun events or just plain relaxation. Some labor organizations and businesses hold gatherings for their members and workers to celebrate the day together.


---
Poetry:
A Personal Reflection
September 11th Poem
---
More Poetry:
Prince or Puppet
Standing On The Corner
You've Bought Your Way To Heaven
Patches


Puzzles