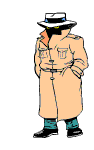 Standing on the corner,
the winter chill sets in.
Still lookin' for my dream there,
just o'er the horizon.
And my pockets hold but pennies,
there's no nickels no, no dimes.
And my coat is tattered tearing,
like a nursery without rhymes.


Standing on the corner,
Don't know where to go,
And the snow that's all around me
has come to tell me so.
The pennies in my pocket
jingle some, and die.
How, precious few, how precious few,
say all the passers by.
Hey, I'm proud, I'd never ask,
I'd never beg a dime,
And I'd never play a tambourine,
hold a cup, or preach for mine.


I'm no Gospel Preacher,
No monkey Mr. Right.
I'm just me, I'm just me,
in this winter gray, gray light.
So, all you pitching pennies,
With amens and wary eyes,
Can keep your copper goodies,
I'm not copping that last prize.


No, I don't want your pity,
nor your pennies, sorried tears,
All I want's some sunshine,
and some newer, fuller years.
And that, you cannot give me,
I must find it on my own.
And if my courage wanes a bit,
Well, I'm lost and far from home.
You see, I've got no magic,
no gifts, I'm only me,
And I've got to earn my treasures,
It's the only way, you see?
I don't want or care for kingdoms.
I don't want wealth or fame.
I don't want favors, fortunes,
or sirs about my name.
All I want 's a purpose,
a place to go and give.
Some hearts that I can lighten
and a life that I can live.
So, it's true indeed, I'm broke now,
confused and frightened some,
And though your intentions are the best,
I can't take them, I can't come.
I'll find my own horizon.
There all my dreams will be.
My purpose and my hearts to care,
with faces glad for me.
Standing on the corner,
Don't know where to go,
With but pennies in my pockets
and paths covered up with snow.
I shiver in the chill now ,
I crinkle up my brow.
I ask the Mighty Snowman.
for some sunshine, anyhow.
And yes, indeed, I thank Him,
for my coat and heart and love,
But, I wish He'd melt the snow a bit
or give my back a shove.
Just to point the direction,
the path He has in mind,
For, I'm not really certain,
I've not become snow blind.

Standing on the corner,
whistling out a song.
I'm not a gospel singer
but, I'll try to sing along.
Standing on the corner
and I've written my own song.
I'm not a very wise man,
but, I'll try,
I'll try to carry on!
By Linda A. Copp
©January 11, 1972
---