My Barometer's Dropping
The fox runs faster than the hounds or steeds,
And my barometer's dropping, zero it reads.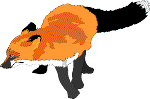 The fox is climbing, he's under the brush,
he's closer to reason than the things he'll crush.
Outracing the dogs, the horn and the men,
While my barometer's dropping, it falls again.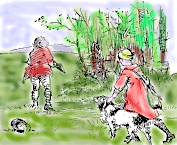 And Winter is howling about outside,
Like hunters after the prey, they've spied.
And my barometer's fallen to twenty below
And both inside and out are covered with snow.
But, that fox is more clever and faster too,
Than the hounds running after me and you.
My barometer's frozen,

the chill inside meets out.
I'm numb and I'm frozen, I'm dead, can't get out.
Caked in ice cold

blankets of stone and of blue.
You'd better run foxy, wish I'd been like you.
But, I wasn't clever, couldn't run like you can.
I wasn't a hunter, nor a fox, just a man.
And the hunters, the cold, overtook what I am,
That's life, now it's death, but, I don't understand.
It's over, it's over, my race its been run.
Mr. Fox your an animal,
yet,
I lost and you won!
©July 15, 1971
---