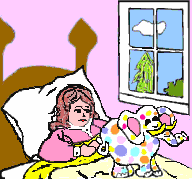 Crazy Spotted Elephant
Crazy spotted elephant,
sits 'neath the window pane,
The colors splashed upon his back
and trunk are not the same.
For he is quite unusual,
one of a kind, unique,
A rarity among all toys,
that of which I speak.
And sitting there upon my bed,
just below the window sill,
His eyes are wide, and black, and deep,
as they strain to get their fill.
They reach up to that glass above,
to see the world without,
Perceive the trees and sunset hue,
yes, to rise and then look out.
But, silly spotted animal,
you were made to rest inside.
You were made to comfort children,
who are frightened and have cried.
You were given pretty colors,
to cheer a worried brow.
You were given eyes deep and dark,
to understand, somehow.
Yes, my little rainbow friend,
you were made to wear a smile.
So, stop staring at that window sill,
with that wistful look awhile.
Be happy with my devotion,
my secrets and my love,
Please stop looking at that window pane,
resting just above.
For you see I'd miss you so,
your comfort and your time,
I'd be so sad and frightened,
if alone you made that climb.
Besides, you might decide to go,
you might decide to roam.
You might decide to leave your heart,
my arms, and then your home.
And I fear your happiness,
would shatter in a while,
Once you'd left me waiting here,
gone 'way just walked a mile.
Some things were made to travel,
some things were made to stay,
Some things were made for tomorrow,
and some for yesterday.
And you see my trusted friend,
I need your love and aid,
I need your kindness, colors,
lime orange, lemonade,
And when the night turns cold and lost,
to hold you to my chest,
To thank you just for being you,
childhood happiness.
I know you have some secret dreams,
some hidden thoughts therein,
And you have helped me grow and share,
those things I am within.
I also know again my friend,
how much you yearn to see,
How much my chum you've given,
sacrificed for me.
Yet, if they'd only lift me,
and raise me to that glass,
I'd hold you to that window pane,
so, you could see at last.
But, I guess till then we'll wait here,
at least we will today.
Yet, when tomorrow smiles on us,
we'll be glad of yesterday.
And when we're finally looking out,
together on some day,
Or maybe when we've gone outside,
to laugh and look and play
Will be forgotten afternoons,
times we've spent inside,
Will be forgotten times we've waited,
wished and sometimes cried.
©July 1, 1970
---