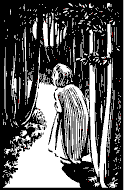 Oh! Figure so shrouded, so cast in haze
Fleeing from a time spent piece
Is one so frightened by this taunting maze
They dare not pause to pray, to speak?
Oh! Figure as yet unknown to me
Yet, so, intent and so, alone.
My tears are rain,
my prayers, a sea,
I know not you
but, agony.
By Linda A. Copp
© September 25, 1969
---