Ebony on the prowl,
seeks and speaks and growls,
Prances, dances, leaps,
Power dark and deep.


Pumping up and down,
its paws,
dashes, gashes, rips and claws.
Midnight flashes in the sky,
Black lightening slashes
and he flies.


Slick and quick and mean,
eyes like embers though they're green.
Raw rage roars and soars
and strikes.
Jaws that sneer and snarl,
he bites.


The Panther's beastly, beating breast
neither quelled nor daunted in its quest.
Slicing down and through the leaves,
the shadow no one sees,
Pouncing on his prey,
The hunter stalks to slay,
Death without delay
and no one ever walks away,
But,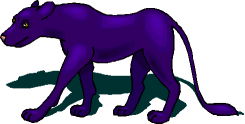 The Panther on the Prowl!
By Linda A. Copp
© December 1, 1998