Sleepy Hollow
Have you been to Sleepy Hollow
that tavern by the woods
Where long ago one yesterday
men gathered there and stood,
And told their scary stories
of a Headless Horsemen who
Gathered up their countrymen
like potatoes in a stew?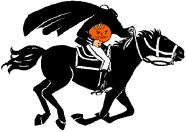 Well , I've been to Sleepy Hollow
and without benefit of glass.
I've listened to the stories
and seen them come to pass.
And hid among the shrubs there
yes, cringed behind a tree,
While that Headless armor gleaming
came whipping up past me -
Wielding out a giant sword,
a massive steel and blade
And riding on an animal
of steel and stone and staid.


I hear him on the bridge, now!
I see the moonlight strike.
His sword and armor riding past
there's nothing that he's like.
A fear, a brute, a cruel thought
I cower in the trees.
I have to sit and ponder him
yet, hope he never sees!

By Linda A. Copp ©
---
---
---
Back to: Happy Halloween Home Page
To Halloween: Puppets to Buy
---
---

Poet's Page

, Seasonal, Geography, As Is, Elder's, Spiritual
---
Poetry: Films, Music and Links
---
---
Except where otherwise © owner indicated on

Copyright page All copy and graphics in this site are © including but not limited to 1996-2017 SunnieBunnieZZ
All Rights Reserved, World Wide Comments, observations and suggestions Contact