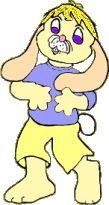 Hi, my name is Race Sunnie Bunnie©.
I love to run, jump and look for butterflies.
Make believe is my favorite thing of all.
Grammaw tells the best stories but
she says they are not Make believe.
She calls them, history.

Grampaw's stories are both history
and made up stuff.
What I like about his stories are the puppets!
Every Sunday, he does puppet shows
for us, sometimes he lets me help.

My Dad, Chasen is a great story teller.
He thinks up everything all by himself.
He and I like to make up rhymes and songs
and my sister, Brynn dances to them.

Mom's, name is Summer, and she's pretty
just like my favorite time of year.
That's all I have to say right now,
Bye.