Halloween Part II

You Have Dared to Enter!
---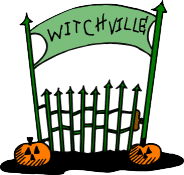 People once believed ghosts
roamed the earth and that witches met with the

devil on Halloween.
Boiling cauldrons

, evil spells,

bats, black

cats and broomsticks were associated with witches and Halloween.
Later, Black Magic, The Grim Reaper, Frankenstein,


Count Dracula,

vampires and
werewolves


also became associated with the Holiday.

Click On Play Button
The music on this page "Ghostbusters"
comes to us through the courtesy of its sequencer
David W. Barnes



PUZZLES:



Back to: Happy Halloween Home Page
To: Halloween Part I
To Halloween: Part II Enter If You Dare!!!

---
Halloween: Books, Films, Music, and Links
---

Fly Home

Eggsite

Activities

Puzzles

Links
---
Except where otherwise © owner indicated on Copyright page All copy and graphics in this site are © including but not limited to 1996-2017 SunnieBunnieZZ
All Rights Reserved, World Wide Comments, observations and suggestions Contact