Stages



There are lots of kinds of stages you can make to perform puppet shows. They may be very simple or more complex. Let's start with easy ones first. A cardboard box can make a quick easy stage. (If you've come here from Grampaw's Workshop skip down to the third paragraph because, you probably already know how to make these two stages.) Here's how to make two very easy, simple, hand puppet stages. The first one, only needs a sheet, blanket or piece of cloth and a couple of tacks. All you need do is tack it or tape it across the bottom half of a doorway. Adjust the height of the blanket to what is comfortable for you, the puppeteer to perform.
If you don't want to make holes in the material,

tack thick string across the doorway and throw the material over the string. This is a quick and easy stage. Remember, things don't have to be hard or complicated to be fun! If you want something nicer, not necessarily better, try this. Get a box, and either cut off the side with the open flaps, or cut open one whole side of the box. (Scissors can be dangerous and we don't want any little bunnies getting cut. All our projects are meant to be, NO band aid required activities. So, be very careful and always ask an adult to help you.) Then on the opposite side of the box cut a square leaving a 2 or 3 inch border around the top and sides and a 1 inch border along the bottom. This is now, the front of your stage, while the open end is the back of the stage. You can color the border and see, it looks like a curtain. Naturally, you can color or paint the box all around to give your stage a finished look.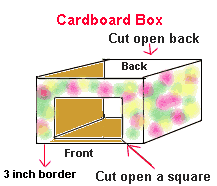 Stages have different requirements depending on the kind of puppets used in the puppeteers performance.
Ventriloquists

perform with dummies perched on their knees and they may or may not decorate the set around them. The only stage they need is a good seat for themselves and their buddy and the ability to throw their voice. However, it is important that these performers know how to present themselves in a manner that not only encourages the audience to believe but, also to give them the sense of a happening at the same time. I'll discuss this in depth, later.
Marionettes and rod puppets require larger stages with enough room for the puppets manipulation. In some cases, it may take two puppeteers working together to make one puppet come to life. For our purposes, we'll discuss stages not more than 5 or 6 feet in length and no higher than 8 feet tall. You have to think about whether or not your going to be moving your stage to different locations for performances. Naturally, it needs to be light weight and easy to assemble if that is the case. My dream is to build a convertible stage, so, I may do shows using either marionettes or hand puppets and not have to invest in two different stages. I am working on such a design right now, but for the sake of those of you, who will be working with either one or the other of these two kinds of puppets, I have sketched out the following designs.
Two Kinds of Stages

Click here



if you enjoy puppet theater
and would like to go
Backstage

---